New vision New communication
Powder coating is a paint coating technique for metals used in industry to coat parts or products.
The paint used is in the form of a very fine thermoplastic (polyamide, polyethylene) or thermosetting (epoxy coating, high chemical resistance) powder resin.
Powder coating also called powder coating consists of spraying paint via electrostatic guns. The powder, being positively charged, is attracted by the part which is itself negatively charged.
In this way the powder paint temporarily adheres to the part which will then have to pass through a baking oven in order to give rise to the melting and polymerization of the powder.
The application of powder paint can be carried out on various metals such as aluminum, steel, zamak, stainless steel, magnesium … and via various processes and equipment.
Indeed, just like what we can do within our company Fin'tech Industrie, it is possible to powdercoat parts or products manually (manual powdering gun) or automatically (automatic powder coating line). This equipment thus makes it possible to process parts or products in small, medium and large series.
Powder coating is a coating technique used in many business sectors such as industry, construction, railway, electronics, etc.
To follow all the news of our company, visit our LinkedIn page: Fin'tech Industrie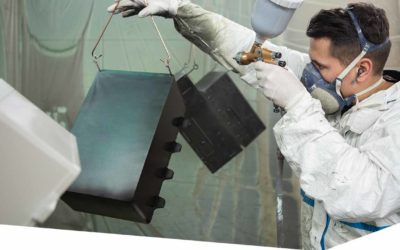 New liquid paint application workshop [Fin'tech Industrie is pleased to announce that the new liquid paint shop is now operational and ready to receive your parts. Fin'tech Industrie had until now had a liquid paint workshop with an application booth, a booth...
read more